When the bone tissue starts to deteriorate, this is known as a form of gum disease called Periodontitis. This happens when the byproducts of plaque attack the tissues that hold your teeth to the bone. The gums begin falling away from the teeth and form pockets in the gums which allows more plaque to collect below the gum line. When this occurs, the patient becomes more sensitive to hot and cold and the roots of the teeth are more vulnerable to decay.
Advanced periodontitis occurs when a major amount of gum and bone tissue has been lost and the teeth are losing more and more support due to the loss of periodontal ligament and bone. Some teeth are unable to be saved and must be extracted. If left untreated, advanced periodontitis can cause severe health problems elsewhere in the body.
Suppress the urge to avoid cleaning teeth that are sensitive to cold! Teeth that have suffered damage from gum disease will always be more sensitive to cold. Avoiding them only makes it worse.

After any dental treatment, teeth may become sensitive. This is their way of letting you know that they've been injured. Any injury (cavity, tooth clenching/grinding, gum infection) can injure the nerves in a tooth. This should not last long if the teeth are kept clean. If the teeth are not kept clean, the sensitivity will remain or get worse.

If your teeth are especially sensitive, consult with your dentist. This could be a sign of the need for root canal treatment, a gum tissue graft, a desensitizing toothpaste (with potassium nitrate), or a concentrated fluoride gel (0.4% stannous- or 1.1% sodium-fluoride) may do the trick.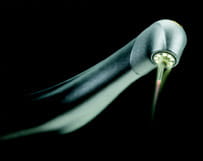 The Diode Laser is a great tool for shaping the gums and removing bacteria from the periodontal pocket, the space between the gums and tooth. Dental cleanings performed with diode laser therapy significantly improve the success of healing the gums. Inflammation, bleeding, pocket depths, and the amount of bacteria are all greatly reduced as opposed to just scaling and polishing the teeth alone. Best of all, laser therapy has been shown to improve circulation and increase the components that speed healing, referred to as Biostimulation. With any oral procedure or surgery, Biostimulation reduces pain and swelling and can help your mouth recover more quickly.